BMW E92 M3 Throttle Body Parts

We carry a variety of parts related to BMW throttle bodies and throttle body upgrades. Modern BMWs have electronic throttles that need replacement rather than repair. A malfunctioning unit can disable the car so it's important to pay attention to any fault codes related to the "EML" system. Older mechanical throttles are much more reliable and less prone to any issues. Replacement of any throttle housing is easy and straightforward.
Larger throttle bodies have been advertised for years as a performance upgrade. On their own they will not make any power difference. But combined with other upgrades, such as larger mass air sensors and intakes, they can contribute to power gains. However, we do not currently sell larger throttle bodies. We do offer adapter plates to mount different throttle housings onto your intake manifold. This is most commonly done along with a stand-alone engine management system with or without drive-by-wire control.

For accurate results, specify your model below.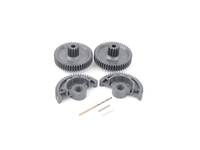 The original gears in the S65/S85 throttle body actuator would often fail, giving off improper readings from sensors and failed engine bank operation. If this has happened and you don't have the hundreds or thousands to replace your whole unit after parts and labor, Odometer Gears has the perfect solution.
Their Throttle Body Actuator Repair Gears are made with a mix of high temp nylon and a carbon fill that makes its highly durable to heat and wear. In addition, a proprietary lubricant additive is added to further aid the wear prevention. This ensures your new components will last the life of your vehicle. The OE gears were made with a glass mix that was prone to cracking and wearing away the teeth, creating a long list of issues in the process.
Fits the following Vehicles:
05/2003-12/2009 E60 BMW S85
12/2005-04/2010 E61 BMW S85
03/2004-07/2010 E63 BMW S85
07/2005-07/2010 E64 BMW S85
01/2007-10/2011 E90 BMW S65
07/2006-06/2013 E92 BMW S65
03/2007-10/2013 E93 BMW S65

Part #: OG014
Ships in 5 days
Free Shipping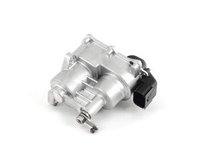 The E90/E92 M3 throttle valve actuators are one of the few problem areas on the S65 V8. They fail for a number of reasons and when they do, the car will revert to limp mode with poor engine performance and fault codes. In some cases you will have fault codes for the throttle actuators before they fail completely which is why it's important to check for codes regularly (even if your SES light is not on). Because the internal electronics are often at fault, the entire TVA must be replaced. The replacement is straightforward and is not invasive to the engine (if you can change spark plugs yourself you should be capable of replacing the TVAs).
This is a Genuine BMW throttle actuator with a two year warranty for the 2008-2013 E90/E92/E93 M3. There are two actuators in each S65 V8 (one for each bank) and we strongly advise replacing both to avoid duplicate repair costs.
This item fits the following BMWs:
2008-2011 E90 BMW M3 - Sedan
2008-2013 E92 BMW M3 - Coupe
2008-2013 E93 BMW M3 - Convertible

Part #: 13627838085
In Stock
Free Shipping