As much of an "Ultimate Driving Machine" it is, many BMW models unfortunately suffer from weak points in the chassis. Over the years we have uncovered many weak or failure-prone areas in the chassis and have developed our own reinforcing solutions for them. And we continue to be the leading experts on BMW chassis reinforcing. Failures can come from a number, or combination, of causes: improper maintenance, age and mileage, poor design, environmental factors, poor repair work, and over-stressing modifications. The longer you let your car go without repairing or reinforcing these areas, the closer it gets to crumbling apart. Our chassis reinforcement kits are designed to first identify potential weak points and then strengthen and reinforce the existing design.
Most of our kits are not labor intensive although welding is usually required. If you suspect your chassis may have structural problems we recommend taking it to a well-known bodyshop or restoration shop. (find out who your local BMW dealer uses - we sell many of our kits to dealer-authorized repair shops). Making the preventative fix simple and effective is better than a long and complicated repair after the failure. Our kits are not usually used for fixing existing damage (only your body shop can determine the correct course of action). But our kits have been proven under extreme conditions on racetracks around the world to prevent many of the costly - and dangerous - chassis problems.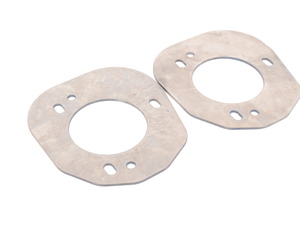 Help preserve the structural integrity of your BMW E82 1-series, or E90, E91, E92, or E93 3-series with these weld-in strut tower reinforcement plates. Deformation of the front upper strut tower has been common problem, especially in race-prepped cars, cars with lowered suspensions, any car that sees track use, or BMWs driven on rough roads. The strut tower deforms from suspension bottoming out, forces generated by the spring/shock assembly, and that forced concentrated in a relatively small area on the strut tower. The strut tower will exhibit deforming by cracking (especially around the stud holes), or "mushrooming" where the tower takes on a dome-shaped top instead of being flat. By thickening the sheetmetal material of the tower, you are making it stronger and more robust to prevent deformation. While the E82 and E9x cars are newer and better made than the previous E36 and E46 cars, any suspension modification or track use will make the new cars more susceptible to this problem.

These are mounted on the underside of the strut tower and need to be welded into place.

This chassis reinforcement fits the following BMWs:
2008+ E82 BMW 128i 135i
2006+ E90 BMW 325i 325xi 328i 328xi 328i xDrive 330i 330xi 335i 335xi 335i xDrive M3
2007+ E92 BMW 328i 328xi 328i xDrive 335i 335is 335xi 335i xDrive M3
2007+ E93 BMW 328i 328xi 328i xDrive 335i 335xi 335i xDrive M3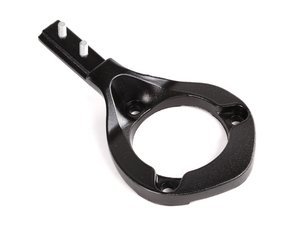 Connects the strut tower brace bar to the strut tower.

Genuine BMW Ring, Strut Tower Brace, Left
This item fits the following BMW Chassis:
E82 1M Coupe,E82,E90,E92,E93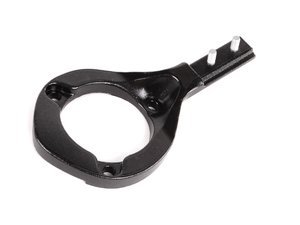 Connects the strut tower brace bar to the strut tower.
Genuine BMW Ring, Strut Tower Brace, Right
This item fits the following BMW Chassis:
E82 1M Coupe,E82,E90,E92,E93
---