BMW Moton Coil Overs & Race Shocks

Moton suspensions are used on the world's most-advanced sports and touring cars and are available to BMW club racers and professional BMW motorsport teams alike. Moton's innovative designs and cutting-edge engineering are exactly what racers look for when choosing a racing-style suspension for their BMW.
Turner Motorsport has extensive experience with Motons - they were used on our E36 and E46 SCCA Touring Cars as well as a number of club racing builds. There are few companies that really sit at the top of motorsport damper technology and Moton is the most well-known. Moton shocks are built for the absolute pinnacle of racing with design and features required to win at the highest level. Motons can be configured a number of different ways, including true rear coil over conversions, aluminum strut/shock bodies, solid mounts, and other features.
Turner Motorsport Moton packages include everything you need for a complete bolt-in racing coil over: set of Moton dampers, front camber plates (depending on model), rear shock mounts, 60mm springs, seat hardware, and rear height adjusters.

For accurate results, specify your model below.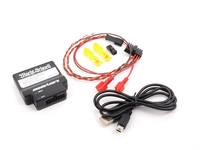 For those wanting to move away from EDC for aftermarket suspension systems or coilover setups, the EDC monitoring can be a bit obtrusive as this type of monitoring is no longer required – resulting in numerous error messages thinking the system has malfunctioned. This EDC Emulation Module installs in less than 15 minutes and will fully emulate a fully active EDC environment when activated. Module can be activated/deactivated by via the integrated mini USB port within the module housing.
The Macht Schnell EDC Emulation Module is possible of the following features:
The ability to run aftermarket racing suspension/coilover setups in which EDC monitoring is not required
Compatible with iDrive and non-iDrive systems
Easy 15-minute installation process with no wire cutting
Proper emulation of the EDC monitoring system
No dealer visits or coding required after installation
Completely removable at any time

Note: The Macht Schnell EDC Emulation Module will disable the EDC monitoring system supplied by BMW. Once disabled the behavior of the car will change and the driver will need to adjust his/her skill and technique. For this reason, this module is not intended for street vehicles and its use may result in injury or even death if proper conditions and procedures are not followed.
Will not work on vehicles equiped with BMW's Dynamic Drive system.

This item fits the following BMWs:
2008-2011 E90 BMW M3 Sedan
2008-2013 E92 BMW M3 Coupe
2008-2013 E93 BMW M3 Convertible
2006-2010 E60 BMW M5
2006-2011 E63 BMW M6
2007-2013 E70 BMW X5 3.0si X5 4.8i X5 xDrive30i X5 xDrive35d X5 xDrive35i X5 xDrive48i
2008+ E71 BMW X6 xDrive35i X6 xDrive50i

Part #: TMS5351
Free Shipping