Complete Cooling System Overhaul Package - 4/2004-2005 Z4 2.5 3.0
This is a customizable cooling system overhaul kit, which starts off with the basic radiator and water pump and can be configured to replace all the M54 common cooling system failure parts in one package. This cooling system package is for the 2003-2005 Z4 Roadster.

The Z4 cooling system is much like that of the sister 3 series. Several of the primary cooling components are prone to failure within 60k miles (or less in many cases). A failure in the cooling system can lead to overheating and catastrophic engine failure. Don't gamble your engine! By replacing these core items preventatively, such as the radiator & waterpump, you are defusing what could be a ticking cooling system time bomb. And if you've had a failure of one of these parts, now is the time to refresh your cooling system. Available with our kit is an OEM Behr radiator, an Original BMW water pump (with updated composite impeller), thermostat (complete with housing), radiator cap, new hoses, and other essential cooling parts.

Optional items (which can be added below):


Radiator cap
Major cooling hoses
Original BMW antifreeze
Upgrade the water pump to a Stewart EMP High Performance pump
Add a new coolant expansion tank (known for cracking)
Include a new coolant level sensor (known for failing / throwing "check coolant" messages)
Include a new coolant temp sensor (located in the lower radiator hose) (re-using the old sensor and seal may lead to a leak)
Add a new thermostat for an automatic transmission (located with the expansion tank).

This cooling system overhaul kit fits the following BMWs:
4/2004-2005 E85 BMW Z4 2.5i Z4 3.0i

Please put a check in the boxes next to the items you wish to order.
Packaged by Turner
T#:
339099
|
Part#:
TMS16430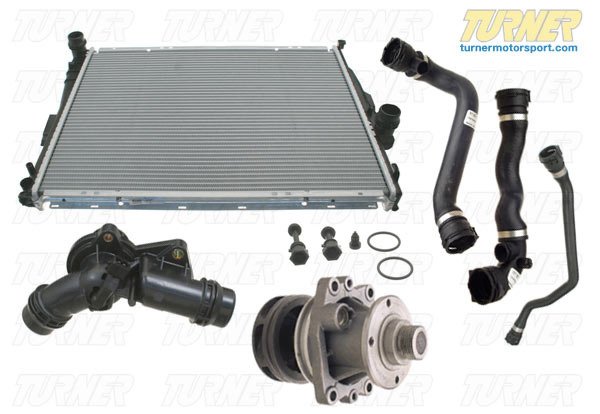 1 of