Supersprint Front and Center Exhaust (Sections 1 and 2) (Options) - E9X M3
Free ground shipping! 
Supersprint produces oversized, mandrel-bent exhaust sections for the 2008-2013 E9X M3 that replace the stock factory section 1 (cats) and section 2 (resonator). Because of the various sizes and shapes of the stock hydro-formed pipes it's not possible to easily mix and match exhaust sections from different manufacturers. Supersprint has solved this by designing their section 1 and 2 together and offering multiple configurations that cover just about all of your needs.

Section 1. With the Supersprint system there are three options for replacing the two sets of restrictive factory cats. For race cars we recommend the straight test pipes with no cats whatsoever. These have the least restriction, optimizing exhaust flow for the best power output. These test pipes are also offered with a set of tuned resonators that alters the tone and gives more rumble to the exhaust note. Lastly, this section is available with a set of HJS metallic sport cats. These cats are freer-flowing than stock, which aids power output, but still cleanse the exhaust gases which helps during emissions inspection.

Section 2. The Supersprint section 2 for the E9X M3 is an x-pipe with or without a resonator. The resonator acts as a pre-muffler and dampens the sound to a lower level. Generally, unless this is a full-blown racecar, you would use a resonator if section 1 is the straight test pipes. If a resonator or cats are being used in section 1 then use the straight pipes in section 2. Otherwise the sound may be too quiet and too much like stock.

Supersprint exhaust is widely recognized as the leader in complete exhaust system upgrades - extremely high quality, well designed for optimal flow, and amazing sound. Even at a premium price Supersprint is an unbeatable exhaust system because every aspect is done to such a high level. A Supersprint exhaust rewards you with a terrific sound, long lasting construction and excellent fitment. The Supersprint sound is very 'European' which fits the sporting sophistication of BMWs perfectly. Most systems are also modular - sections can be added or removed to custom tailor the exhaust sound to your preferance. Aside from 'Race' systems, their mufflers meet European noise laws so you get a refined and tuned sound without being excessively loud. Most Supersprint systems are built with larger diameter piping to improve exhaust flow which helps the engine do less work and make more horsepower! Supersprint exhausts generally run at a premium over other systems but no other system on the market can match their quality, performance, or reputation!

The Supersprint section 1 and 2 are only designed to work with the Supersprint mufflers. Because of the layout and exhaust tubing diameters there is no guarantee this will work with other mufflers.

Below you will find options for both sections so you can customize your M3 exhaust system. The default options are the least expensive configuration with full race straight pipes. For a track-only car (no emissions testing) we like the tuned resonators in section 1 and the non-resonated section 2 x-pipe (and Supersprint Race mufflers).
section:section 1 and section 2
required:Supersprint mufflers
material:T304 stainless steel
These are race exhaust sections designed for performance improvements on the racetrack or other off-road situations. These parts alter or delete the emissions equipment on your car, and may not meet emissions standards in all states. Because of this, we require a waiver of emissions compliance to be signed and sent in to TMS. You can download the waiver here.

This item fits the following BMWs:
2008-2011 E90 BMW M3 - Sedan
2008-2013 E92 BMW M3 - Coupe
2008-2013 E93 BMW M3 - Convertible

Supersprint
T#:
340291
|
Part#:
TMS200171
1 of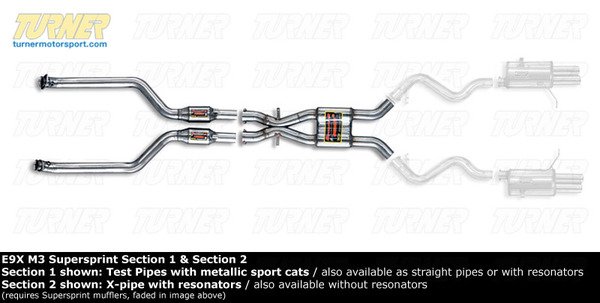 2 of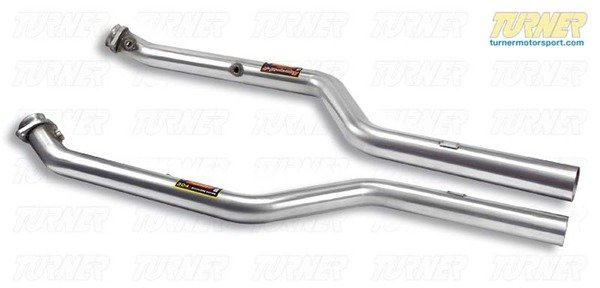 3 of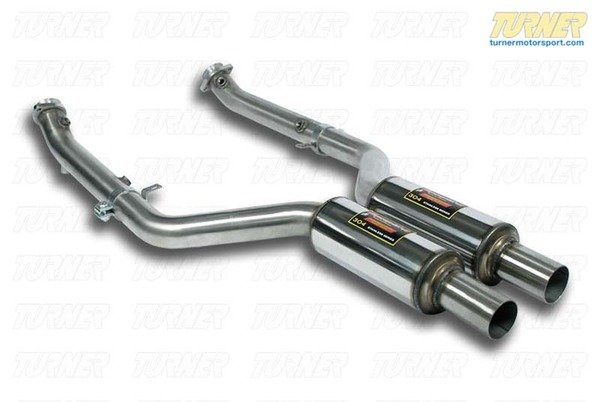 4 of
5 of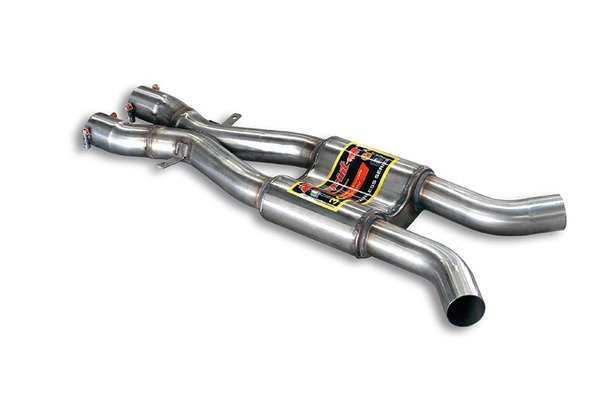 6 of
Inventory On Order, ETA Jan 3, 2022