Braille Performance Lightweight Advanced AGM Battery - B3121 - 21lbs
When building a car for the track, one of the most important factors to consider is weight. Stock batteries can weigh up to almost 50 pounds and are unnecessarily large, designed to power a host of systems not normally used in a track car (radios, lighting, etc.). What can you do to cut weight the weight without affecting your cars operation? This is where Braille Battery comes in with their long line of performance lightweight battery options! Designed to provide the highest cranking power possible while being up to 75% lighter, Braille Battery is one of the foremost leaders in automotive racing batteries with nothing but high quality, high output batteries in mind!
The B3121 battery from Braille is their lightest do everything battery available, offering 1380 pulse cranking amps that can crank over V8 engines with ease while still coming in at under 22 pounds, half of the weight of a standard Group 34 battery! This is thanks to their Advanced AGM racing technology that allows them to put a ton of power into a very small package.
Physical Specifications:
BCI Group: All sizes
Weight: 21lbs / 9.5kg
Length: 6.6" / 168mm
Width: 5.2" / 132mm
Height: 6.8" / 173mm
Polarity: Right Side Positive
Performance Specifications:
Voltage:  12
Full Charge Voltage:  13.2
Pulse Cranking Amps (PCA):  1380
Amp Hour (AH): 31
Life Cycle @ 10% DOD:  3100
*THIS BATTERY REQUIRES A CUSTOM MOUNTING SOLUTION. The size and wight are significantly smaller than a stock battery and will not be held in place by the stock battery mount*

T#:
558042
|
Part#:
B3121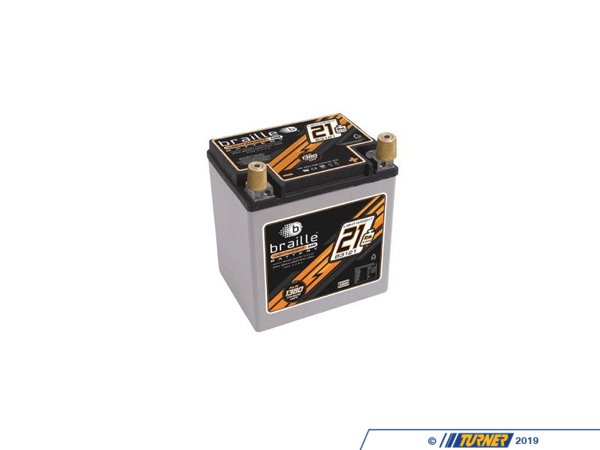 1 of