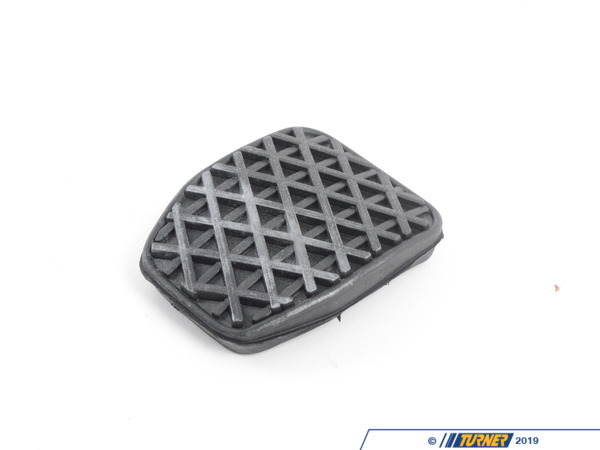 Clutch Pedal Pad - E30 E36 E46 E9X and more
Mfg Part #

35211108634

Turner Part #

T#

8145

Brand
In Stock

Free Shipping
on orders $99 and up
Does this fit my vehicle?
For accurate results, specify your model below.
Product Details
Replace your worn or missing clutch pedal pad with this direct replacement part. This is the narrower pedal pad, intended more most BMWs with manual transmission (for either the clutch or non-automatic style brake pedal.) This item fits many BMWs so please use the fitment widget below to verify fitment for your car.
This Part Fits the Following BMWs
| Make | Model | Submodel | Engine |
| --- | --- | --- | --- |
| BMW | E12 | 528i | M30 2.8L |
| BMW | E12 | 530i | M30 3.0L |
| BMW | E24 | 633CSi | M30 3.2L |
| BMW | E24 | 635CSi | M30 3.4L |
| BMW | E24 | M6 | S38 3.5L |
| BMW | E28 | 524td | M21 2.4L |
| BMW | E28 | 528e | M20 2.7L |
| BMW | E28 | 533i | M30 3.2L |
| BMW | E28 | 535i | M30 3.4L |
| BMW | E28 | 535is | M30 3.4L |
| BMW | E28 | M5 | S38 3.5L |
| BMW | E3 | 3.0Si | M30 3.0L |
| BMW | E3 | Bavaria | 3.0S |
| BMW | E30 | 318i | M10 1.8L |
| BMW | E30 | 318i | M42 1.8L |
| BMW | E30 | 318is | M42 1.8L |
| BMW | E30 | 325 | M20 2.7L |
| BMW | E30 | 325e | M20 2.7L |
| BMW | E30 | 325es | M20 2.7L |
| BMW | E30 | 325i | M20 2.5L |
| BMW | E30 | 325is | M20 2.5L |
| BMW | E30 | 325ix | M20 2.5L |
| BMW | E30 | M3 | S14 2.3L |
| BMW | E32 | 735i | M30 3.4L |
| BMW | E32 | 735iL | M30 3.4L |
| BMW | E32 | 740i | M60 4.0L |
| BMW | E32 | 740iL | M60 4.0L |
| BMW | E32 | 750iL | M70 5.0L |
| BMW | E36 | 318i | M42 1.8L |
| BMW | E36 | 318i | M44 1.9L |
| BMW | E36 | 318ic | M42 1.8L |
| BMW | E36 | 318ic | M44 1.9L |
| BMW | E36 | 318is | M42 1.8L |
| BMW | E36 | 318is | M44 1.9L |
| BMW | E36 | 318ti | M42 1.8L |
| BMW | E36 | 318ti | M44 1.9L |
| BMW | E36 | 323ic | M52 2.5L |
| BMW | E36 | 323is | M52 2.5L |
| BMW | E36 | 325i | M50 2.5L |
| BMW | E36 | 325ic | M50 2.5L |
| BMW | E36 | 325is | M50 2.5L |
| BMW | E36 | 328i | M52 2.8L |
| BMW | E36 | 328ic | M52 2.8L |
| BMW | E36 | 328is | M52 2.8L |
| BMW | E36 | M3 | S50 3.0L |
| BMW | E36 | M3 | S52 3.2L |
| BMW | E39 | 525i | M54 2.5L |
| BMW | E39 | 528i | M52 2.8L |
| BMW | E39 | 530i | M54 3.0L |
| BMW | E39 | 540i | M62 4.4L |
| BMW | E39 | M5 | S62 5.0L |
| BMW | E46 | 323Ci | M52 2.5L |
| BMW | E46 | 323i | M52 2.5L |
| BMW | E46 | 323i | M52 2.5L |
| BMW | E46 | 325Ci | M54 2.5L |
| BMW | E46 | 325i | M54 2.5L |
| BMW | E46 | 325xi | M54 2.5L |
| BMW | E46 | 328Ci | M52 2.8L |
| BMW | E46 | 328i | M52 2.8L |
| BMW | E46 | 330Ci | M54 3.0L |
| BMW | E46 | 330i | M54 3.0L |
| BMW | E46 | 330xi | M54 3.0L |
| BMW | E46 | M3 | S54 3.2L |
| BMW | E53 | X5 | M54 3.0L |
| BMW | E60 | 525i | M54 2.5L |
| BMW | E60 | 525i | N52 3.0L |
| BMW | E60 | 525xi | N52 3.0L |
| BMW | E60 | 528i | N52 3.0L |
| BMW | E60 | 528xi | N52 3.0L |
| BMW | E60 | 530i | M54 3.0L |
| BMW | E60 | 530i | N52 3.0L |
| BMW | E60 | 530xi | N52 3.0L |
| BMW | E60 | 535i | N54 3.0L |
| BMW | E60 | 535xi | N54 3.0L |
| BMW | E60 | 545i | N62 4.4L |
| BMW | E60 | 550i | N62 4.8L |
| BMW | E60 | M5 | S85 5.0L |
| BMW | E61 | 530xi | N52 3.0L |
| BMW | E61 | 535xi | N54 3.0L |
| BMW | E63 | 645Ci | N62 4.4L |
| BMW | E63 | 650i | N62 4.8L |
| BMW | E63 | M6 | S85 5.0L |
| BMW | E64 | 645Ci | N62 4.4L |
| BMW | E64 | 650i | N62 4.8L |
| BMW | E64 | M6 | S85 5.0L |
| BMW | E82 | 1 M Coupe | N54 3.0L |
| BMW | E82 | 128i | N52 3.0L |
| BMW | E82 | 135i | N54 3.0L |
| BMW | E82 | 135i | N55 3.0L |
| BMW | E83 | X3 | M54 2.5L |
| BMW | E83 | X3 | M54 3.0L |
| BMW | E83 | X3 | N52 3.0L |
| BMW | E84 | X1 sDrive28i | N20 2.0L |
| BMW | E84 | X1 xDrive28i | N20 2.0L |
| BMW | E84 | X1 xDrive35i | N55 3.0L |
| BMW | E88 | 128i | N52 3.0L |
| BMW | E88 | 135i | N54 3.0L |
| BMW | E88 | 135i | N55 3.0L |
| BMW | E9 | 3.0CS | M30 3.0L |
| BMW | E90 | 325i | N52 3.0L |
| BMW | E90 | 325xi | N52 3.0L |
| BMW | E90 | 328i | N52 3.0L |
| BMW | E90 | 328xi | N52 3.0L |
| BMW | E90 | 330i | N52 3.0L |
| BMW | E90 | 330xi | N52 3.0L |
| BMW | E90 | 335i | N54 3.0L |
| BMW | E90 | 335i | N55 3.0L |
| BMW | E90 | 335xi | N54 3.0L |
| BMW | E90 | 335xi | N55 3.0L |
| BMW | E90 | M3 | S65 4.0L |
| BMW | E91 | 325xi | N52 3.0L |
| BMW | E91 | 328i | N52 3.0L |
| BMW | E91 | 328xi | N52 3.0L |
| BMW | E92 | 328i | N52 3.0L |
| BMW | E92 | 328xi | N52 3.0L |
| BMW | E92 | 335i | N54 3.0L |
| BMW | E92 | 335i | N55 3.0L |
| BMW | E92 | 335is | N54 3.0L |
| BMW | E92 | 335xi | N54 3.0L |
| BMW | E92 | 335xi | N55 3.0L |
| BMW | E92 | M3 | S65 4.0L |
| BMW | E93 | 328i | N52 3.0L |
| BMW | E93 | 335i | N54 3.0L |
| BMW | E93 | 335i | N55 3.0L |
| BMW | E93 | 335is | N54 3.0L |
| BMW | E93 | M3 | S65 4.0L |
| BMW | F10 | 528i | N52 3.0L |
| BMW | F10 | 535i | N55 3.0L |
| BMW | F10 | 535i xDrive | N55 3.0L |
| BMW | F10 | 550i | N63 4.4L |
| BMW | F10 | M5 | S63 4.4L |
| BMW | F12 | 650i | N63 4.4L |
| BMW | F12 | M6 | S63 4.4L |
| BMW | F13 | 650i | N63 4.4L |
| BMW | F13 | M6 | S63 4.4L |
| BMW | F22 | 228i | N20 2.0L |
| BMW | F22 | 228i xDrive | N20 2.0L |
| BMW | F22 | M235i | N55 3.0L |
| BMW | F22 | M235i xDrive | N55 3.0L |
| BMW | F23 | 228i | N20 2.0L |
| BMW | F23 | 228i xDrive | N20 2.0L |
| BMW | F23 | M235i | N55 3.0L |
| BMW | F30 | 320i | N20 2.0L |
| BMW | F30 | 320i xDrive | N20 2.0L |
| BMW | F30 | 328i | N20 2.0L |
| BMW | F30 | 328i xDrive | N20 2.0L |
| BMW | F30 | 335i | N55 3.0L |
| BMW | F30 | 335i xDrive | N55 3.0L |
| BMW | F30 | ActiveHybrid 3 | N55 3.0L |
| BMW | F32 | 428i | N20 2.0L |
| BMW | F32 | 428i xDrive | N20 2.0L |
| BMW | F32 | 435i | N55 3.0L |
| BMW | F32 | 435i xDrive | N55 3.0L |
| BMW | F33 | 428i | N20 2.0L |
| BMW | F33 | 428i xDrive | N20 2.0L |
| BMW | F33 | 435i | N55 3.0L |
| BMW | F33 | 435i xDrive | N55 3.0L |
| BMW | F36 | 428i | N20 2.0L |
| BMW | F36 | 428i xDrive | N20 2.0L |
| BMW | F36 | 435i | N55 3.0L |
| BMW | F36 | 435i xDrive | N55 3.0L |
| BMW | F80 | M3 | S55 3.0L |
| BMW | F82 | M4 | S55 3.0L |
| BMW | F83 | M4 | S55 3.0L |
| BMW | Z3 | 1.9 | M44 1.9L |
| BMW | Z3 | 2.3 | M52 2.5L |
| BMW | Z3 | 2.5i | M54 2.5L |
| BMW | Z3 | 2.8 | M52 2.8L |
| BMW | Z3 | 3.0i | M54 3.0L |
| BMW | Z3 | M Coupe | S52 3.2L |
| BMW | Z3 | M Coupe | S54 3.2L |
| BMW | Z3 | M Roadster | S52 3.2L |
| BMW | Z3 | M Roadster | S54 3.2L |
| BMW | Z4 | 2.5i | M54 2.5L |
| BMW | Z4 | 3.0i | M54 3.0L |
| BMW | Z4 | 3.0i | N52 3.0L |
| BMW | Z4 | 3.0Si | N52 3.0L |
| BMW | Z4 | M Coupe | S54 3.2L |
| BMW | Z4 | M Roadster | S54 3.2L |
| BMW | Z4 | sDrive28i | N20 2.0L |
| BMW | Z4 | sDrive30i | N52 3.0L |
| BMW | Z4 | sDrive35i | N54 3.0L |
*The above product applications have been written by Turner Motorsport. All warranties, product application, fitment, and performance are the responsibility of Turner Motorsport. For additional information see the terms of use.
others bought
recently viewed