E36/E46/Z3/Z4 Turner Solid Aluminum Motor and Transmission Mount Kit
If allowed in the rules these solid aluminum engine and transmission mounts offer many advantages over a urethane or Delrin mounts. It's no wonder that these mounts have found their way into the top BMW racers in the country. We originally developed these mounts for E36 and E46 World Challenge racing but they also work perfect in BMW Modified and SCCA club racing and SpecE46 (SE46). These are machined from solid aluminum and have zero deflection. The engine torque will cause a rubber or urethane mount to flex or deflect. The stiffer the material the less movement there is and the more torque is passed through the driveline (instead of being wasted winding up the mount). At the transmission end the flex-free solid mounts will give smoother, crisper shifts since the transmission is no longer dancing on the pliable mount. This puts the shift linkages in better consistent alignment. And unlike rubber or urethane the aluminum has zero wear and is not affected by leaking oil or other fluids so this is likely the last set of motor and transmission mounts you will ever need. We have designed these mounts so the engine is 5mm lower and the transmission is 1mm lower than the factory mounts. This helps lower the center of gravity for better balance and handling. We very strongly recommend using the transmission and engine mounts together as a complete kit. Mixing a rubber mount with a metal mount will cause undue stress on the mouting points and will lead to a failure. We never advise using a solid mount unless a corresponding solid mount is also used. This kit fits the E36, E46, Z3, and Z4 6 cylinder models listed below, including M3 models.
These are a no-compromise design for all-out racing use. Full solid aluminum mounts should not be used on street-driven cars. Because there is no material to absorb vibration these will be quite harsh for regular street use (track cars don't care about noise).
Subframe reinforcement kits
are very strongly recommended to go along with these solid motor mounts to reduce the risk of damage to the subframe. The motor mount section of the subframe should be reinforced to prevent stress and failure of the subframe.
This item fits the following BMWs:
1992-1999 E36 BMW 323is 323ic 325i 325is 325ic 328i 328is 328ic M3
1999-2006 E46 BMW 323i 323ci 325i 325ci 328i 328ci 330i 330ci M3
2001-2006 SpecE46 BMW 330i 330ci
1997-2002 Z3 BMW Z3 2.3 Z3 2.5i Z3 2.8 Z3 3.0i M Roadster M Coupe
2003-2005 E85 BMW Z4 2.5i Z4 3.0i
2006-2008 E85 BMW Z4 M Roadster M Coupe

Turner Motorsport
T#:
112
|
Part#:
TDR9980001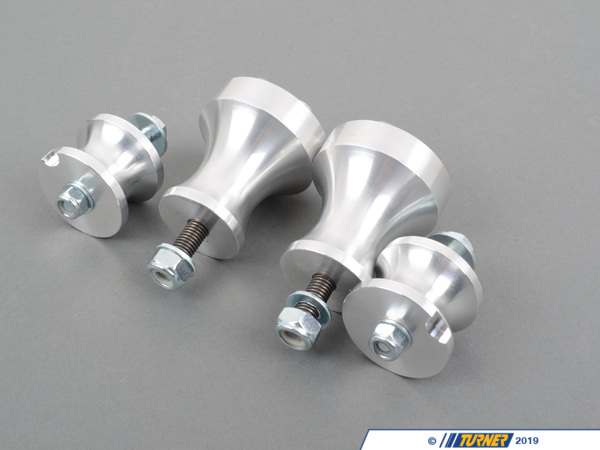 1 of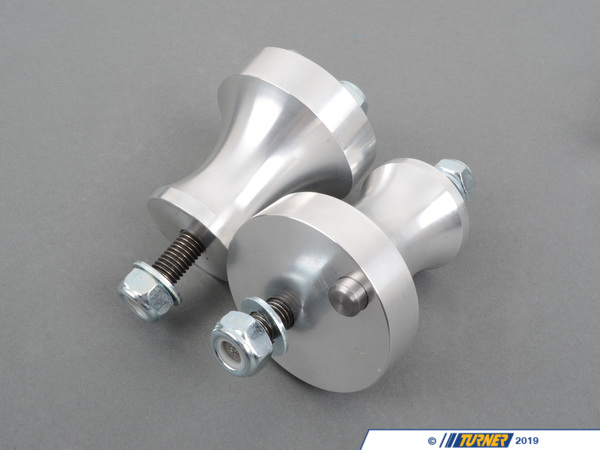 2 of
3 of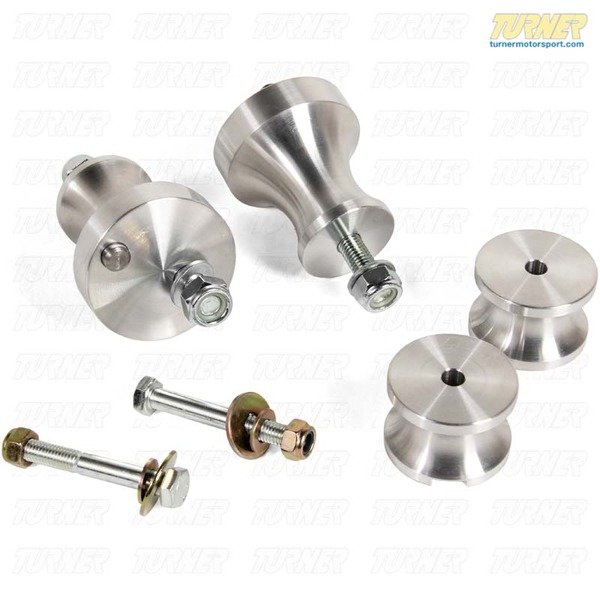 4 of