 E53 X5 3.0 Shark Injector Performance Software
Unlock torque and horsepower
Smoother engine with less hesitation
Improved throttle response
Rev limit increased to 7000
Top speed limiter removed
Installs in minutes!
Performance software is a must-have upgrade on your BMW and you won't find an easier and better software solution than the Shark Injector. Developed by BMW tuning expert Jim Conforti, this device plugs into the car's diagnostic port and flashes new performance files into your car's engine computer (ECU). There's no removal of the ECU and shipping, no cables, no laptop required - only a battery charger! Installation takes just a few minutes and your engine will perform like never before!
The M54 performance software was developed on the dyno to create maximum power and torque using premium 91+ octane fuel while maintaining BMW reliability and smoothness. The software makes changes to the ECU's maps and algorithms for fuel injection, ignition timing, VANOS and camshaft movement, and transitional fueling. A lot of tuning has been done at the low RPM ranges to improve response. We modify the maps for part throttle and full throttle so you get better response and more torque at all RPM. We also raise the rev limit to 7,000 and remove the top speed limiter. By fine tuning these maps we've been able to improve the M54/M56 engine beyond what BMW did by making more power and torque and a smoother-running engine.

The Shark Injector plugs into the diagnostic port inside the X5 cabin. With the battery charger supplying power, press the Upgrade button and within minutes the ECU is reflashed with the new performance tune. No other software product on the market comes close to how easy it is to install. You can use the Restore button to re-install the stock BMW software at any time. Detailed instructions are included. Other tuners require you to remove the ECU and ship it to them or use a laptop to read and write a new file. The Shark Injector is ready to install right out of the box! A planned future upgrade will allow you to use the USB port to load different performance files.
This item fits the following BMWs:
1999-2006 E53 X5 3.0i

Shark Injector
T#:
350759
|
Part#:
INJ3-OBDUSB X5 1 of
Select Options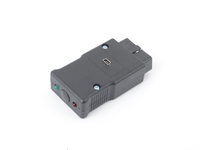 Shark Injector Performance Software

Ships in 1-3 days Yes please (Add NBC85620)

Ships in 2 Business Days
E53 X5 3.0 Shark Injector Performance Software