Find Parts That Fit Your Vehicle
BMW Brake Rotors & Discs
Similarly to brake pads, the brake rotors can be matched to specific driving conditions and intended use. For solely street use the design and characteristics particular to each rotor are not big factors in overall braking performance. For instance, a cross-drilled rotor will not significantly improve braking under street conditions. Improved stopping performance will come mostly from your brake pads. Some rotor designs perform better under racing conditions with racing pads but, generally, all rotor types can be used on the street. For race track use we typically recommend a slotted or blank stock rotor. Any 2-piece floating rotor is superior to anything else and those are our first recommendation when available. For more information on the brake rotors we sell,
check out our rotor buying guide.
All of these rotors are manufactured to meet BMW's specs for each vehicle application. Our standard rotors are sourced from original manufacturers for BMW (OEM), performance alternatives, or straight from BMW themselves. In some cases BMW Motorsport and BMW Performance will have their own rotor upgrades. Our Cross-Drilled, Slotted, and Drilled+Slotted rotors are manufacturered by StopTech - a global leader in braking technology and the braking technical partner to the Turner Motorsport racing team.
Click on the rotor types below to see those rotors for your car.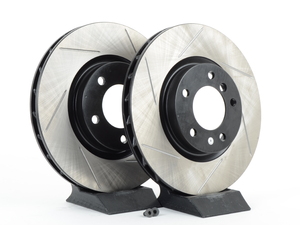 Direct replacement FRONT gas-slotted brake discs for E36 M3, MZ3. These rotors feature a unique black electro-coating that is designed to prevent corrosion. Each rotor is e-coated then double-ground and balanced to ensure an even surface with no vibration. The e-coating is the best anti-corrosion protection currently available in replacement rotors. Most aftermarket rotors are not coated, allowing surface rust to form right away, which is unattractive when brakes can be seen through your wheels.

Slotting a rotor helps to release gases that build up between the rotor surface and an out-gassing brake pad. Without an escape, this thin layer of gas will cause a delay until the pad cuts through gas layer. The slots in our rotors allow the gases to escape giving better braking performance. For track and racing use, slotting is preferred over cross-drilling because the slots don't take away as much mass from the rotor and won't suffer from structural cracks.

Sold as a FRONT pair.

This item fits the following BMWs:
1995-1999 E36 BMW M3
1998-2002 Z3 BMW Z3 M Roadster M Coupe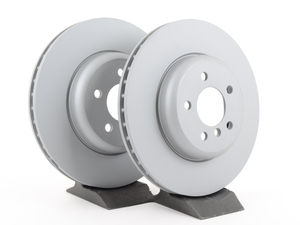 This is one pair for Zimmerman front brake rotors/discs for the 2010+ F-chassis 5/6-series with standard rotors (see full application list and notes below). A pair includes one left and one right rotor. Price is for the pair of rotors (2).
Zimmermann Coated - an OEM type rotor made to the same dimensions and specs as the original design. These rotors are manufactured in Europe with a high carbon content for excellent wear and thermal resistance. We like these rotors a lot because the quality is very high and the entire rotor is coated with anti-corrosion layer to prevent rust on the hub and in the cooling vanes.
Application Notes:
The F10 528/535i/xi was offered with standard and an optional 'High Speed Brakes' upgrade. The High Speed Brakes use larger rotors and pads, and a larger caliper than the standard 528/535. Therefore, you
must
confirm which brakes are on the car prior to ordering. There are three ways to confirm which brakes you have -
Check the directional venting of the front rotors - standard brakes are not directional, High Speed Brakes have directional front rotors (the vents inside the rotor "lean" back to the rear of the car)
Check your original window sticker or build sheet for "Option Code S5AEA - High Speed Brakes". You can also call us with your VIN and we can look it up.
Measure the rear rotors - stock are 330mm (12.99"), High Speed uses 345mm (13.58"). The front rotors are the same size but thicker.
This item fits the following BMWs:
2011+ F10 BMW 535i 535xi 535d 535d Xdrive with standard rotors (not High Speed Brakes)
2012+ F06 BMW 640i 640iX
2012+ F12 F13 BMW 640i 640iX