Find Parts That Fit Your Vehicle
BMW Control Arm Replacements & Upgrades
Control arms, and their integrated ball joints, are some of the most crucial components on a BMW suspension. The control arms literally control the wheel and suspension as they go through their range of motions. They do more than just keep the alignment in a constant spec - they are a vital locating component for the suspension itself. A faulty or worn control arm or ball joint is a very dangerous and potentially life-threatening problem so make sure they are inspected and replaced at regular intervals.

Most control arms for BMWs consist of an inner and outer ball joint made of plastic, rubber, Delrin, or metal and covered in grease with a rubber boot to seal it from the outside. The ball joint rotates and spins as the control arm goes through its movements and that will wear the ball joint and make it loose. The grease inside the housing can also get used up, evaporate, or become contaminated from moisture and foreign particles. As the ball joint becomes worn it can result in excess movement within the housing. Your steering and handling will become less precise and there is usually a light clunking or clicking sound. In rare and extreme cases the ball joint can separate from the control arm completely, leading to a total loss of suspension and steering control. You should have the ball joint play checked annually and replace them every 3-4 years. Most track organizations will not allow a car if they are older than three years.

Control arms also take abuse from impacts and handling forces. Aluminum control arms will generally bend and prevent an accurate alignment. Steel control arms will crack and fracture and require close inspection annually and replacement every 3-4 years.

We sell OE BMW, OEM, and performance upgrade control arms from proven manufacturers. The control arm is so important to a BMW suspension that we insist on only top quality brands and designs and will never sell a control arm based on price alone. We also have upgrade packages with superior designs and better bushing options and we have bundled these together with valuable package savings.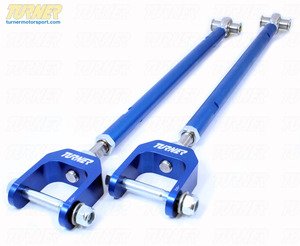 Top seller! The Turner Adjustable Rear Camber Arms: The Only Adjustable Arms Approved for Grand-Am Continental Tire Challenge Racing Series
Why you should use Turner Motorsport camber arms on your car:
If you have a lowered car and have run out of adjustment with the stock camber arms.
If you have a track car and are looking for increased camber adjustment, light weight pieces, stronger components, and improved suspension handling
Two bushing styles to meet your needs: solid rod-end for track-only use, or rubber bushing for mixed street/track use (approved by Grand-Am!)
The high range of adjustment allows a full racecar setup or a heavily lowered car to maintain factory specifications.
Only high quality and high strength materials and components are used
Aluminum camber arms are designed as a lightweight component, thereby reducing wear and tear on other, more critical parts (rear subframe, control arm bushings, etc). Each camber arm weighs only 2.5 lbs making for a total of 5 lbs for both parts! Stock camber arms weigh 3 lbs each. We have seen competitor's arms that weigh twice as much!
Hardcoat anodized aluminum, stainless steel turnbuckles, and stainless rod ends to all but eliminate corrosion from getting into the threads and making adjustment difficult.
CNC-machined double shear design for ease of installation, high strength, and choice of outside bushing material. But we do suggest using with (outer bushing # 33326775551) for best performance.
Easy adjustment - our main adjustment point is on the outside by the wheel so there is no need to work around the exhaust or subframe to adjust camber.
All hardware included.

Installation Instructions:
Instructions for Rod-End Style (TSU9940001)
Instructions for Bushing-End Style (TSU9940B77)

This item fits the following BMWs:
1992-1999 E36 BMW 318i 318is 318ic 323is 323ic 325i 325is 325ic 328i 328is 328ic M3
1999-2006 E46 BMW 323i 323ci 325i 325ci 325xi 328i 328ci 330i 330ci 330xi M3
2001-2006 SpecE46 BMW 330i 330ci
2003-2008 E85 BMW Z4 2.5i Z4 3.0i Z4 3.0si Z4 M Roadster M Coupe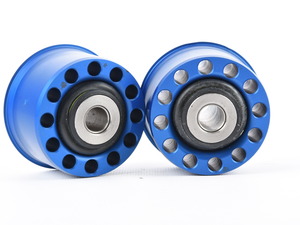 Our sealed Monoball Rear Trailing Arm Bushings (RTAB) are the best solution for completely eliminating deflection and unwanted toe changes on the rear of the E36, E46, and Z4. While rubber and urethane bushings flex during load, the toe can change widely giving you nervous and unpredictable handling. These RTABs have a solid aluminum housing with a high-quality sealed OE bearing. These bushings were developed from years of competition use in various racing and HPDE events. There is simply no better RTAB unless your racing class rules prohibit the use of mono or spherical bearings.

The rear trailing arm bushings take a lot of abuse from acclerating, braking and cornering. The stock rubber bushings are just not up to the task of keeping rear wheel alignment in spec for very long, especially if you have upgraded to stickier tires and a better suspension. The pliable rubber flexes and twists which slows down reaction time and leaves you with a car that feels nervous and 'tail happy'. Urethane helps to control the alignment but issues with fitment, maintenance, and longevity keep us from recommending urethane on anything but a street car. We also offer a Delrin RTAB for cars that must conform to certain racing class rules. These sealed spherical bearings are the best at controlling rear toe alignment.

Our aluminum RTABs are very well made - high grade aluminum alloy and steel CNC'd out of a billet by an ISO 9001 certified manufacturer, each component is either hardcoated or nickel plated. While multiple manufacturers offer two piece designs, our research showed that a one piece bushing is a better design featuring a sealed bearing to keep contaminants out extending the life of the bearing.
Features:
Key Benefits:
Rear Trailing Arm Monoball eliminates unwanted deflection, maintaining alignment settings and minimizing wheel hop.
Allows full rear trailing arm articulation for low friction movement and eliminates binding found in rubber and poly bushings.
Completely streetable: utilizes an OES Lemforder brand sealed, greased ball joint for an extremely long service life with no increase to NVH.
Design Features:
Housing: Billet CNC 6061-T6 aluminum, type II anodized for exceptional durability and corrosion resistance
Bearing: OE Mercedes/lemforder 2043520027 Sealed ball joint
Bearing inserts: CNC machined 303 stainless steel.
Rebuildable
Clickhere for installation instructions.

This item fits the following BMWs:
1992-1998 E36 BMW 318i 318is 318ic 323is 323ic 325i 325is 325ic 328i 328is 328ic M3
1999-2005 E46 BMW 323i 323ci 325i 325ci 325xi 328i 328ci 330i 330ci 330xi M3
2003-2008 Z4 BMW Z4 2.5i Z4 3.0i Z4 3.0si Z4 M Roadster M Coupe